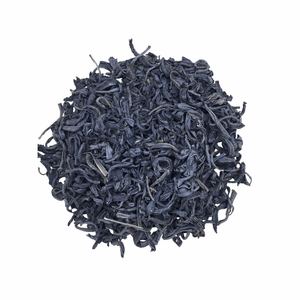 Grand River Tea
Organic Purple Tea
Regular price
$9.00
Sale price
$83.00
Indulge in a cup of Organic Purple Tea  that's grown in the high altitudes of Kenya.
With all the health benefits of green tea, this tea has half the caffeine, plus more anthocyanin than green or black tea, so you can sip guilt-free!
So pour yourself a cup and enjoy the unique flavour and powerful antioxidants of this purple power tea!
Certified: Organic, Non GMO and  Fair Trade Alliance
Purple Leaf Tea is also a colour changing tea… squeeze a couple drops of lemon into your teacup and watch the purple colour intensify.  
Be the first to try this beautiful new tea!
Once unfurled, you can see the actual whole leaf that the farmer carefully hand-plucked from their Nandi Hills tea garden.
The only tea from Kenya plucked, processed and shipped from small-scale farmers! Pesticide free. No chemicals are ever sprayed on the tea leaves.
Tasting Notes: 
Sweet plum and fresh spring greens.
Steeping Instructions: 
1 teaspoon per 8 ounces 175°F  2-3 mins. 
Re-steep these whole tea leaves 2-3 times 
---
More from this collection